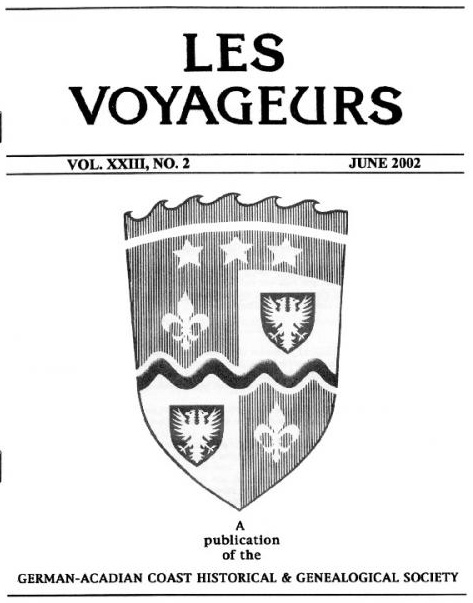 Les Voyageurs, a copyrighted publication of the German-Acadian Coast Historical and Genealogical Society, is published in March, June, and September of each year. Material for inclusion in a particular issue must be received by the Editor before the 1st of the month prior to publication.
Les Voyageurs was first published in March 1980 back issues are still available.  Click here for ordering back issues.
At the current time we have a topic index available covering 1980-1999. A member of our society is in the process for completing a name index. We look forward to that soon.
Members as well as non-members of the GACHGS are invited to submit articles for inclusion in Les Voyageurs. Preference is given to original material pertaining to the history and families of St. Charles, St. James and St. John the Baptist Parishes. Sources of information used in articles should be listed, and any copyrighted material must be accompanied by written permission to use the information. All material should have 1-inch margins. Articles are subject to editing as necessary. Neither the Editor nor the Society assumes responsibility for the content, originality, or accuracy of material submitted. All material should be sent to the editor before the first day of the month prior to publication.
Here is our usual schedule (example):
"September" issue given to printer in last week of August. Printer delivers to Circulation Chairman by mid-month (September 16th–20th). Circulation Chairman mails issues by bulk mail during the last week of the month (September 21st-30th). Note that bulk mail is slow (1 to 4 weeks delivery time). Issues begin to arrive to members by last week of month (September) or the following month (October) depending on the postal system and where the member resides. This is if everything goes according to schedule, as you know unexpected delays do occur on occasion.
| | |
| --- | --- |
| LES VOYAGEURS | ISSN-0270-4498 |
| EDITOR | EMORY C. WEBRE |
| CONSULTING EDITOR | SUSAN WAGUESPACK LAURENT |
| EDITOR EMERITA | ROSE MARIE STAGG PERILLOUX |
| CIRCULATION CHAIRMAN | JAY M. SCHEXNAYDRE |
| WEBMASTER | JAY M. SCHEXNAYDRE |