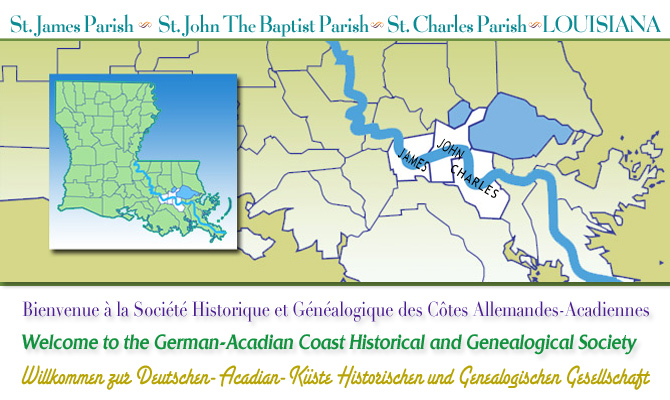 GERMAN-ACADIAN COAST
HISTORICAL & GENEALOGICAL SOCIETY, INC.
P.O. Box 122
Vacherie, Louisiana 70090-0122
The German-Acadian Coast Historical and Genealogical Society, organized in July of 1979, was incorporated as a non-profit corporation in the State of Louisiana on May 14, 1981. One of the Main goals of the Society is to preserve, compile, and publish records of genealogical and historical nature, with emphasis given to the records of St. Charles, St. James, and St. John the Baptist Parishes.
The purpose of this website is to inform the world of the unique culture and history associated with Louisiana's German-Acadian Coast, today's St. Charles, St. James and St. John the Baptist Parishes. In Louisiana we don't have counties, we have parishes. These three parishes mentioned all take their civil names from the ecclesiastical Church parishes that preceded them as formed by the original colonial government of our state.
We also would like to encourage you to join our society. We'd like for you to learn more about your ancestors and their families. Anyone researching the genealogy of their family, who may have lived along the old German or Acadian Coasts this society and it's publication would be of great value to your work. So take your time, browse through our site, bookmark it, and come back to visit often. This site is to promote our society and we would like for you to become a member. We'll be glad to have you, help you, learn from you, share with you. For those of us still living in South Louisiana, particularly in St. Charles, St. James, and St. John Parishes, we encourage you to also join us at our monthly meetings and participate in our activities.
If you are interested in joining, please click here to download an application.