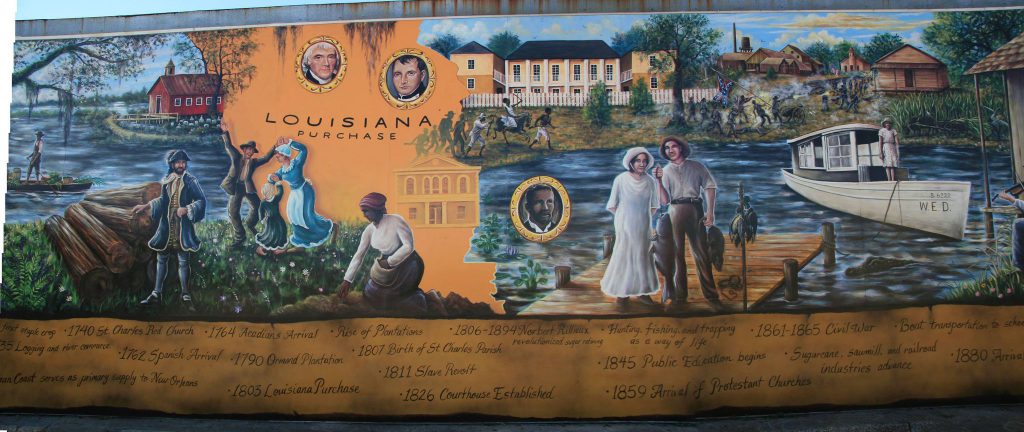 For years many of us in the River Parishes (St. Charles, St. James, and St. John the Baptist) have been active on an individual basis in researching our family histories. Although we knew that others in the area shared our interest, there was no formal organization of persons who had an interest in genealogy.
Friends of Fay Walker Louque, a long time avid genealogist from Destrehan, persuaded her to take steps to form a genealogical society in this area. Fay finally heeded their requests, and through the local newspapers and radio stations invited all persons interested in genealogy to attend an informal meeting at the St. Charles Parish East Bank Regional Library in Destrehan on June 25, 1979. The response was gratifying, and our Society was born.
From the beginning, a tri-parish (St. Charles, St. James, and St. John the Baptist) organization was envisioned. Accordingly, plans were made to hold the second meeting in St. John Parish, at the library in LaPlace. At that meeting on July 25, 1979, the organization was named and the following officers were elected or appointed:
Original Board
President / Fay W. Louque
Vice-President / Shirley C. Terrio
Secretary / Anne P. Hymel
Treasurer / John B. Rodrigue, Sr.
Editor / Emily C. Guidry
Associate Editor / Loren M. Levet
Historian / Michael Maurin
Membership Chairman / Shirley Loiacano
Membership dues were set at $5.00 annually and a meeting date of the fourth Tuesday of each month was selected, with the provision that the meetings would be held in each of the three parishes on a rotating basis.
In subsequent meetings members submitted five-generation charts (which will be filed in the Parish Library), the organization's by-laws were written and accepted, and descendants of early families of the German and Acadian Coasts discussed their family histories. Surnames covered thus far in family history discussions have been Rommel (Rome), Schexnaydre, Pertuit, Chauff, Melancon, Haydel, Peytavin, Waguespack, LeBlanc, Bergeron and Roussel.
Michael Maurin, our historian, has done considerable research of this area and at each meeting has shared his knowledge with the members, discussing early land holdings, area plantations, early villages, and the use of photography in genealogy."
Send Comments or Questions to