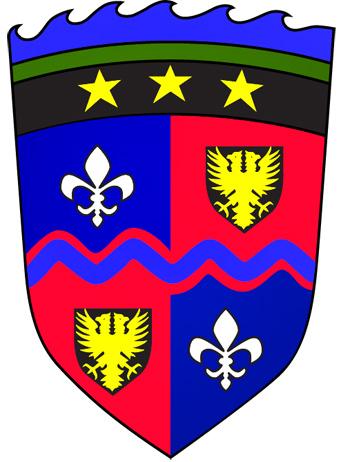 Our Coat of Arms was designed by Norman J. Marmillion, Jr. of New Orleans. Norman was president of the society for 10 years. Norman's explanation of the Coat of Arms — "The crest displays history, geography, and heritage of the membership and inhabitants of the Louisiana River Parishes of St. Charles, St. James, and St. John the Baptist.
Through the center of the crest runs a winding curve–the Mississippi River. On both sides of this rest the Imperial Eagle and Fleur de Lis representing respectively the early German and Acadian settlers. Bordering the river's curves lies a strip extending from the field of the Imperial Eagle, signifying the first permanent settlement by the Germans in this area.
The three stars represent the tri-parish composition of the German-Acadian Coast Historical and Genealogical Society and further indicate that these three Civil Parishes were a major part of the original German and Acadian Coasts.
Above the shield flies an arch of high-crested waves signifying the courageous and often times tragic migrations to Louisiana by the Germans and the French."