Born: 5 Aug 1925, Reserve, Louisiana
Died: 8 Jan 2012, Reserve, Louisiana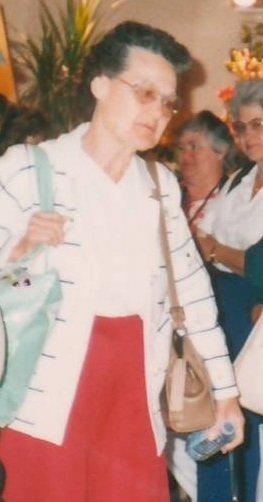 Shirley C. Terrio was one of the founders of the German-Acadian Coast Historical & Genealogical Society.  Her research was published continously in Les Voyageurs for 33 years.   In fact, because she had so much material prepared in advance, her articles will appear in issues yet to be published after her death.  When the GACHGS was founded in 1980, Shirley was appointed as "Associate Editor" of Les Voyageurs.  She later  held the position of GACHGS Historian.  From 1981 to date, she contbiuted approximately 248 articles for Les Voyageurs.   Shirley also submitted articles under the name of her husband, Alton Terrio, who was also a charter member of this Society.
The Officers and Board Members of this Society, will truly miss Shirley as the Reserve community lost a true treasure of knowledge of local history and genealogy.
Obituary as appearing in New Orleans Times-Picayune on 9 January 2012
Shirley Cassagne Terrio passed away on Sunday, January 8, 2012. Beloved wife of the late Alton Terrio. Mother of Dr. Leelen Terrio and Barry Terrio (Iris). Grandmother of Melissa Simoneaux and Steven Terrio. Great grandmother of Alexandra and Austin Simoneaux and Isabella Terrio. Daughter of the late Leelen and Effie Thibodeaux Cassagne. Sister of Leatrice Keller and Ledamae Madere. Age 86 years. A native and resident of Reserve, La. Relatives and friends are invited to attend services. Visitation at St. Peter Catholic Church, Reserve on Wednesday, January 11, 2012 from 9:00AM until 10:00AM. Followed by a Mass at 10:00AM. Burial in Church Cemetery. Arrangements by Millet-Guidry Funeral Home, LaPlace, LA.