---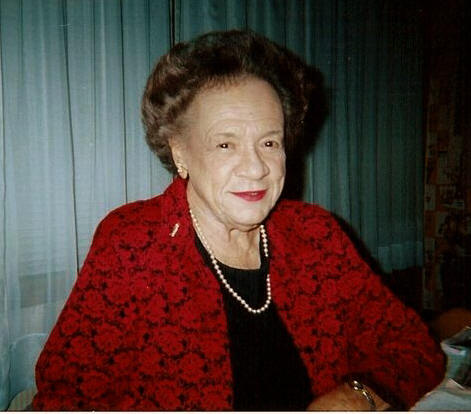 Born:  11 November 1923
Lutcher, St. James Parish, Louisiana
Died: 3 April 2007
Baton Rouge, Louisiana
Buried:  9 April 2007
St. Joseph Catholic Cemetery
Paulina, St. James Parish, Louisiana
Charter Member of GACHGS
Member of Board of Directors of GACGHS
Founding Editor of Les Voyageurs 1979 until 1994
Member of Board of Directors of St. James Historical Society
---
ANCESTORS OF EMILY MYRTHÉ CHENET GUIDRY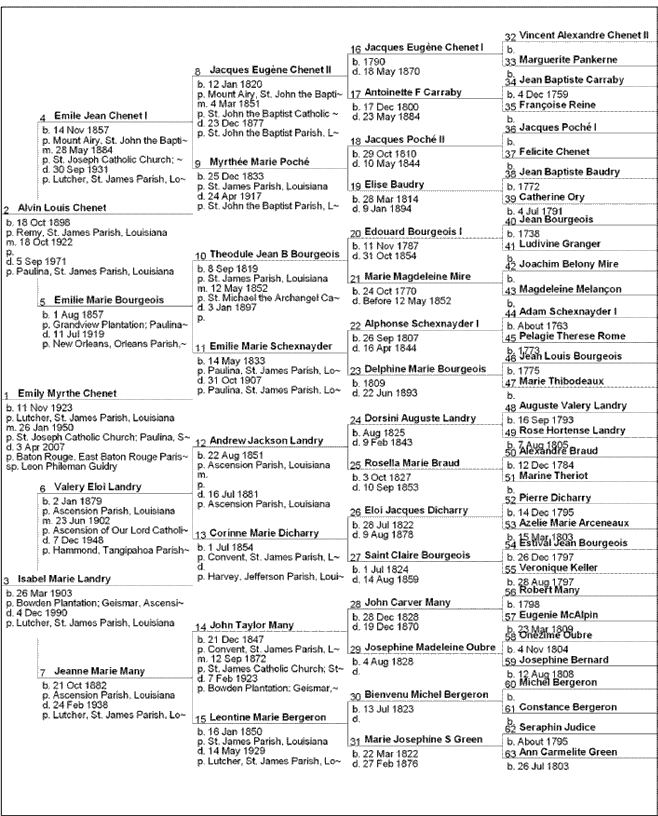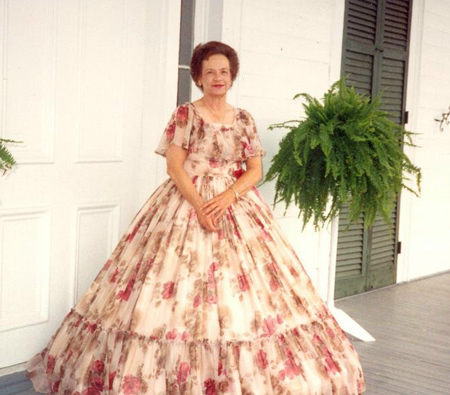 ---
Obituary
Emily Chenet Guidry, a native of Lutcher, died Tuesday, April 3, 2007, at 7:40 a.m. She was 83 and a resident of Reserve for 50 years. She was the beloved wife of the late Leon "Pap" Guidry, daughter of the late Alvin and Isabelle Landry Chenet; sister of the late Jennie C. Marshall; cousin of Joyce Henson, Sylvia Gayden and husband Harry, Thomas Waller and wife Barbara, Valerie Callahan and husband Pat, and Jan Abreo and husband Leon. Relatives and friends of the family, also DAR, Genealogical Society and the St. James Historical Society, are invited to attend services. Visitation at Millet-Guidry Funeral Home, 2806 W. Airline Highway, LaPlace, on Sunday, April 8, from 5 p.m. to 9 p.m. and on Monday from 8 a.m. to 9:45 a.m. Religious service at St. Peter Catholic Church, Reserve, on Monday at 10 a.m. Burial in St. Joseph Cemetery, Paulina.
---
Emily Guidry May Be Gone, But Not Forgotten
contributed by Terri Zeller
(also appeared in Lutcher News-Examiner, Thursday, April 26, 2007, pp. 1 & 8
Emily Chenet Guidry was a walking encyclopedia of history, able to recite off the top of her head significant historical dates and information about St. James Parish.
Talented, charming, loving, intelligent and well informed, she was a woman who easily made friends wherever she went.
"A piece of history was lost when she passed away," said longtime friend Charlie Duhé of Lutcher.
Guidry passed away April 3, 2007, after a brief illness.   At the age of 83, she had the stamina and memory of those decades younger than herself.
Born on November 11, 1923 in Lutcher, Louisiana to Alvin Chenet and Isabelle Landry Chenet, the cheerful lady also had a twin sister, Jeannie.
A true southern belle, Emily was proud to be a direct descendant of Pierre Chenet, who is known for introducing Perique tobacco to St. James Parish.
Many who knew her have many wonderful memories.
"She was such an upbeat person," recalls longtime friend, Gloria Maurin of LaPlace.   "When you spoke to her, she made you feel happy.   She was very optimistic.  She was also a romantic who loved to listen to romantic music."
Married to Leon "Pap" Guidry in 1950, the couple spent 50 happy years together at their home in Reserve.  Leon passed away several years ago.  She had no children of her own, but was like a mother to many.
"I miss her like I miss my mother, for she filled that role," said friend Ken Guidry (no relation), of Lutcher.   "She was a person that you could always talk to with no effort and on any subject."
Ken Guidry recalls many stories that Mrs. Emily told him.
"She was a self professed tomboy and daddy's girl," he recalls.  "She was the one who liked to climb trees and jump out of them with an umbrella as a parachute."
He Also remembers her once telling him that she would pair up clothes pins on the line so none would ever be alone.  She did not like for things to be alone."
"She always called Lutcher home, even if she did not live there.   The Chenet home was a place full of wonderful memories for her," Guidry said.   "She enjoyed the company of others, but relished being alone to work on genealogy or to read."
Emily was a graduate of Lutcher High School, attended St. Mary's Dominican College in New Orleans, and the University of Southwestern Louisiana in Lafayette, Louisiana, where she finished with a B.A. in Social Work.  She also attended Louisiana State University in Baton Rouge.
She was a social case worker and worked for the American Red Cross in Houston, Texas from 1944-1946.  She was also a Welfare Case Worker for the Louisiana Department of Public Welfare in St. John Parish.  Later, she was a case supervisor and eventually administrator for the St. John District Office of Family Services from 1973 until her retirement in 1979.
Guidry was editor of Les Voyageurs, a quarterly publication of the German-Acadian Coast Historical and Genealogical Society from 1979-1994, and was a board member of the St. James Historical Society.She was also employed as a tour guide at San Francisco Plantation at one time; a member of the Daughters of the American Revolution and the Ladies Altar Society of St .Peter Catholic Church in Reserve, Louisiana.
Guidry wrote and published a book on the history of the bonfires, Bonfires on the Levee.   During the Christmas season, people writing for publications all across the United States would call upon her for accurate historical information about the centuries old tradition of the burning of the bonfires.
Because of her vast knowledge of local history, she was often called upon to speak to various groups on genealogy.   Always prepared, she went to great lengths to make sure the material was accurate.
A people person by nature, it was not unusual to find Guidry cooking in her Reserve kitchen, entertaining relatives and friends from distant states and European countries.
Very often the guests stayed for days and she lovingly drove them around St. James Parish, acting as tour guide as they visited historical sites, plantations and cemeteries.   She loved company and welcomed everyone with open arms and an open heart.
Emily Guidry touched many lives and will never be forgotten.
"Emily's warm and loving light along the River Road has dimmed, but has not gone out.   She will remain a gentle light in our hearts for years to come."  — from the eulogy read at her funeral April 9, 2007 at St. Peter Catholic Church in Reserve.